our approach to volunteering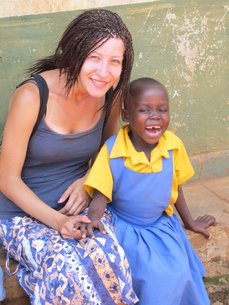 Seek
If you are filled with pride, then you will have no room for wisdom. ~ African proverb
"I must admit that when I first went over to Uganda as a 20 year old I had many delusions on what volunteering meant. The longer I stayed in Uganda the more I realized the little I knew and how some of my ideas were a far cry from real solutions. I also got to witness people who came to volunteer that had the 'hero complex' - everyone back at their home had pumped them up, patted them on the back, and unfortunately set them up. As they arrive in a country and culture they know little about, but yet feel they are coming to save it, you can imagine how lost this person feels. Or worse, that they feel they are the hero and interact with the local community in such a way. The mark they leave may end up causing more problems than solutions and broaden the gap between the local community and internationals.
The most common response I hear from people who come and volunteer is that, 'I was expecting to teach Ugandans, but they were the ones who taught me so much'. Imagine how much easier it would be if we went in with that expectation, that we were going to learn from Ugandans and work WITH them." – Terra Lorenz
Seeking out information on Africa, Uganda, Iganga, and our project is the first step in coming alongside us and joining us in this important work.
Learn
Wealth, if you use it, comes to an end; learning, if you use it, increases. ~ Swahili proverb
Any wise investor would say that, at the very least, you should know about that which you are investing in. There are many ideas that work within the framework of our own 'set' culture but when transferred into a different culture they may fail. As we seek solutions for the many struggles in Uganda, it is important that first we learn about the people, their cultural framework, their ideas, and the socioeconomic factors that are relevant to the area.
Even more, as we open ourselves up to learn, we are able to receive the blessing of broadening our own understanding and taking points away from the many beautiful aspects of Ugandan culture.
Partner
If you want to go quickly, go alone. If you want to go far, go together. ~ African proverb
As we come together from our different cultures seeking out real solutions we are truly able to go farther. When we stop seeing just a problem to solve and start seeing people to learn from, we are able to join hands and make real progress.
We aren't looking for heroes. We are looking for real people to come alongside us.
Things to know if you want to Seek, Learn, and Partner with us at Our Village Uganda

We are careful as to who we bring in to work with us, what they are able to do, and how they do it, when at OVU. With our primary focus being children, it is vital that we do everything we can to protect these children. As an organization, we are careful to guard our children as we have seen the damage it can have on a child when there is a constant influx of people coming in and out of their lives. It is important that we provide stability for our children; this stability is rooted in our Ugandan staff family. With that, it is important that the proper respect and authority is given to our staff, as they are the constants in these children's lives.

-Representing your Country-

We expect volunteers to be positive advocates of their country and culture; you won't be the last person to come visit Uganda from your homeland. Be conscious and aware of the legacy you leave.

Unfortunately at times, 'bazungu' (white people) get lumped into one category. So be aware that your actions and portrayal of 'bazungu' may have large consequences for other visitors and expats.

- Dress code-

It's time to embrace Ugandan style!!! This means a bit of a tweak for some of us when it comes to the summer-wear we are accustomed to. In Ugandan culture, thighs are not to be shown for women. You may note that at times women show their chests quite openly (i.e. very public breast-feeding) in Uganda. Within this context women's chests are shown quite openly, but as far as cleavage goes women tend to conceal it. Ugandans will get glimpses of 'American' women, like Niki Minaj or Brittney Spears, which can falsely shape their view of western women. We do not want to portray the over-sexualized stereotype of western women, so ladies keep it concealed please. In short, modesty is key. In villages, the majority of women wear skirts or dresses below the knee, while in larger towns or cities you will find more women wearing pants or capris. Men very often dress business-casual. Even while digging in the garden a man will be wearing dress pants and a button-up shirt. On the other hand, a man who wears shorts isn't going to offend anyone, so guys can feel free to wear shorts.

- Paying the right price-

Uganda is a culture that uses bartering, which means often the price that is told to you is double the real price. Hey, can you blame them for trying? We encourage our visitors to learn the real price of items. You may think that by giving a generous payment you are doing the merchant a favor. Perhaps this is true in the short-run. But in the long-run, your are adding to a common stereotype that westerners are rich and can be tricked easily. By paying the right price you are also showing your humanity, that you work for your money also, and that money does not grow on trees where you come from. You will find that you will gain the respect of locals and gain a sense of kinship when asserting yourself in this way. Also, by paying too much you are creating an unfair competition for locals who cannot afford to pay that price, making it harder for them to get the same goods as the seller will only be wanting to cater to visitors willing to pay the inflated price.

-Handouts-

Handing out random toys, candy and money to children you don't know - would you do this in your own country? So why do it here? We have seen projects where as soon as a visitor arrives, the children run to him or her and ask for toys or candy. We do not want this for our children or our visitors. We want our children to be respectful and cautious when meeting visitors (strangers) for the first time. Ugandan culture is very welcoming so we encourage that, but also Ugandan culture is very generous and passionate about feeding and blessing their guests. Raising children who have come to expect gifts from visitors is not healthy or culturally normal. Yes, giving candy or a toy may win the immediate affection of a child, but we want to encourage our children to develop more meaningful relationships, and to learn that these visitors are real people too. The expectation of handouts is implanted very young in some people. If we can teach our children to get to know and work with others to get results, we are doing them a much bigger favor in the long-run.

Of course our children do love gifts and candy, and so we connect these things with a purpose or as a reward. Also, since we have a lot of children fairness is very important, as we do not want the most charismatic and cute kids getting all the goodies and special opportunities. We expect visitors to fit into the framework that we have and if gifts are generously brought for the children at OVU, it will be a blessing to find special ways to treat the children with you.

-Promises and giving away random gifts-

At our village we focus on relationships, and as a result we have to set a firm line with gift-giving and promises. This is for the protection of our Ugandan community and visitors. When visitors come and give random handouts it continues the separation between Ugandans and visitors. We do not want our visitors to just be seen as a quick hand-out but as a person. Gifts can set locals up for unrealistic expectations and a dependency on handouts.

Don't make promises you can't keep. We want our volunteers to take the word promise out of their vocabulary while with OVU. Promise nothing, even if you are sure you can do it. Promises from visitors often take the onus off Ugandans and their role in something. Promises often put expectation on what the visitor can do rather then what the local Ugandan can do. If you have ideas and areas you can help, we would very much like to hear them and we wish to have an open dialog. Our leadership can help you understand the current projects and long term goals at OVU.

-Cultural difference-

While in Uganda you will be called 'Mzungu' (a white person) or 'Bazungu' (many white people). "Mzungu, how are you?" or "Jambo mzungu!" (Hello white person) will be phrases you will become very familiar with. At times some visitors have been offended by this, as in many cultures one would never refer to someone by their race or any other general descriptive term. In Uganda, they do, however. They do not shy away from describing someone as fat (that is in fact normally a complement), or thin, tall, short, black, brown, white, and purple, or Buganda/Acholi/Busoga (different tribes). During your stay in Uganda you will find things are often not as 'politically correct' as in your own culture. Within the Ugandan culture this is not meant as an offense, rather it is a statement or way of addressing someone. If you feel frustration in this area, please try first to understand the Ugandan culture behind it.

-Taking children off of the OVU site-

We make sure that the children at OVU are engaged in their community and culture. OVU is in partnership with the living guardians of children at our project. Children under our care go back to their home villages between every school term. We also have special outings such as music & dance competitions, community events, local church events, sports events and scheduled field trips. It is important to us that our children are engaged in their culture, but also crucial that we keep them safe. Our organization is liable in protecting these children. We do not give special privileges to certain children but want to ensure that all our children feel special and are treated equally. This is why we do not allow visitors to take children off the site on their own. When visitors take on the role of giving special treatment to certain children it isolates them and can create unrealistic expectations. It shifts the child's thinking in a way that they think it is a foreigner that can help them and they may come to feel a sense of entitlement to experiences that are not practical within their means. It causes the child to look to the visitor rather then the OVU staff family. We want our children to respect and trust the authority of OVU staff family who are with them long-term.

-Christian Ugandan Organization-

We are a Ugandan Christian Organization and we expect visitors to respect the beliefs of our organization.


Click on our Volunteer Application and Info Form below, then fill in and send to info@ourvillageuganda.org or mail to:

Our Village Uganda
Box 97, Yorkton Saskatchewan
S3N 2V6
Canada

Anyone planning to volunteer must complete the application and have it approved.